Environmental Engineering
Overview
The water resources and environmental engineering group performs multidisciplinary research in the areas of surface and groundwater hydrology, land-atmosphere interactions, hydrometeorology, contaminant transport and remediation in aquatic and soil environments, watershed biogeochemistry, solar and microbial fuel cell energy production. The faculty interacts with a broader group of faculty members that are affiliated with the Environmental Engineering Program and also works closely with the Center for Environmental Science and Engineering.
Degree Offered
Faculty
Infrastructure
1. Hydraulics Lab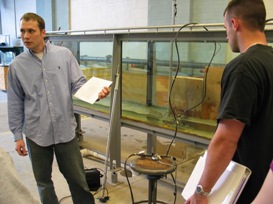 The Hydraulics Laboratory is located in room 114 of the F.L. Castleman building. The lab facilities are complete with a 4.5 m long hydraulics flume used in conjunction with a 12,000 gallon water storage tank, flow weir, Venturi apparatus, and an acoustic Doppler velocity sensor (ADV) and a rotometer. The hydraulics flume may be used for stream channel flow or engineered channels studies, as well as investigating flow through a simulated piping network.
2. Environmental Engineering Lab
The faculty members share a common space in Castleman 215 that houses major equipment, such as HPLC, GC/MS, AA/GF, IC, UV/VIS spectrophotometer, fluorescent microscope and others. Additionally, each faculty member has a variety of equipment in their own research space, such as ICP/MS, XRF, TOC analyzer and many others.
Research Sponsors
The Water Resources and Environmental Engineering group conducts research with the support of various federal agencies, including the National Science Foundation, NASA, National Oceanic and Atmospheric Administration and the (NOAA) and the Environmental Protection Agency. The faculty also works closely together with the Connecticut Department of Environmental Protection and local authorities to address the environmental challenges facing the state. Finally, the faculty pursues close collaborations with industrial partners for technology development, such as the collaboration of Dr. Li with Fuss O' Neil in the field of microbial fuel cells.l cells.