Navigation:
>
>
ENVE alum Kelsey Reeves wins NSF Graduate Fellowship
ENVE alum Kelsey Reeves wins NSF Graduate Fellowship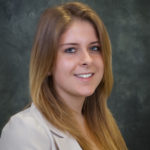 Class of 2016 alum Kelsey Reeves is currently at University of Colorado-Boulder pursuing her Ph.D. She is one of the 2018 NSF Graduate Fellowship recipients, a prestigious award that will support her dissertation research.  Kelsey's undergraduate Honors thesis in the Environmental Engineering Program was successfully published in the Bulletin of Environmental Contamination and Toxicology (found here) and she credits this experience for helping her to write the successful proposal for the NSF fellowship.
Here is Kelsey's research topic in her own words: "My research involves analyzing land surface and hydro-climatological relationships with a variety of water quality constituents in surface water. The goal of my research is to enable forecasting of future water quality scenarios that incorporate climate and land surface variability using primarily satellite data. A tool I will develop from this work will facilitate decision makers with forming strategies to address variability in surface water quality for human and environmental health under climate change."
Congratulations and all the best for Kelsey!!